Dolphicam2 is a new ultrasound imaging platform for multi-material NDT (Non-Destructive Testing).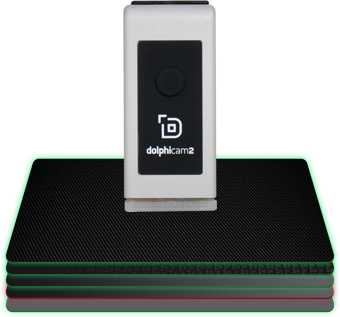 Our unique 2D matrix transducer technology enables a wide variety of transducer frequencies and custom transducer design. Digital signals
enables impressive performance, with up to 100 datasets per sec from all 16 384. Add extreme data signal processing capacity and a smooth user experience to that and you have the ultimate NDT tool.
FEATURES
Real-time images.
Frequency range from 0,5 to 15 MHz.
128 x 128 transducers electrodes.
16384 transducer elements.
Size 3,8 x 3,8 cm.
2D and 3D images.
A-, B-, and C-scans.
Amplitude & Time of flight.
Large area stitching.
---
THE PLATFORM
Dolphicam2 is an ultrasound imaging platform for NDT. Our unique 2D matrix transducer technology combined with a wide range of transducer modules bring NDT inspections to a new level with an impressive performance. Dolphicam2 has unique signal processing which is visualized with great user experience. This makes Dolphicam a tool for experts and non-experts doing non-destructive testing.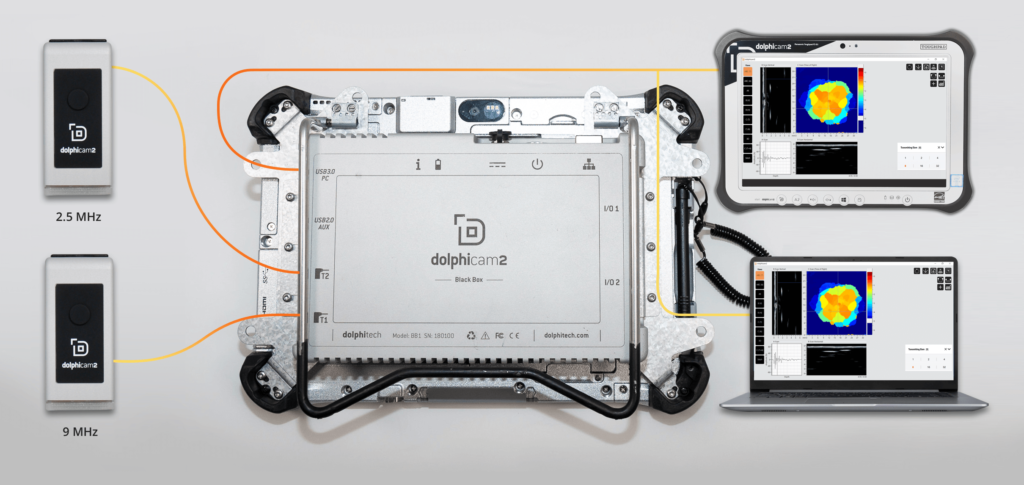 ---
UNIQUE COMBINATION OF FREQUENCIES AND COUPLINGS
The combinations of different TRMs and couplings of varying softness/hardness and sizes enable great possibilities of inspecting multiple types of materials.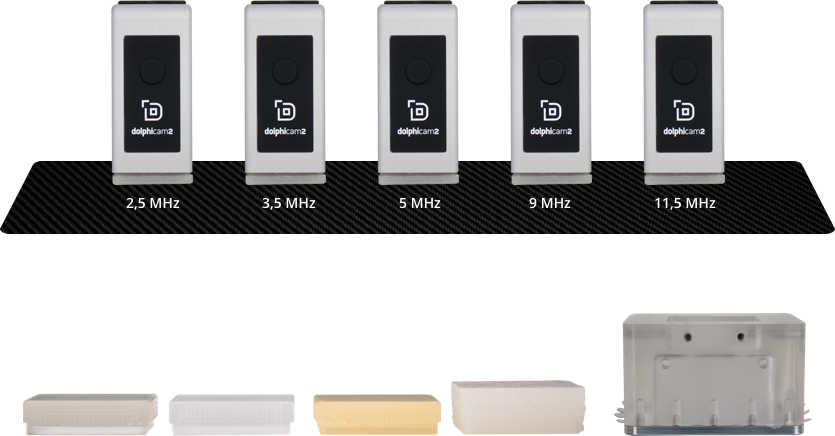 SCANS
The Dolphicam2 Software has a user friendly dashboard with highly customizable and configurable settings.
Real time images.
2D and 3D images.
A-, B-, and C-scans.
Amplitude & Time of flight.
Large area stitching.
"Traffic light" color palettes.
---
CONFIGURABLE SETTINGS
Unit, material depth, number of Amp Gates, number of ToF
Gates, Material Sound Speed, Transmitting Elements, Analog
Gain, Number of Averages, Transmitting Pulse Shape, Time
Corrected Gain, Time of Flight Palette, Amplitude/B-scan
Custom Palettes
---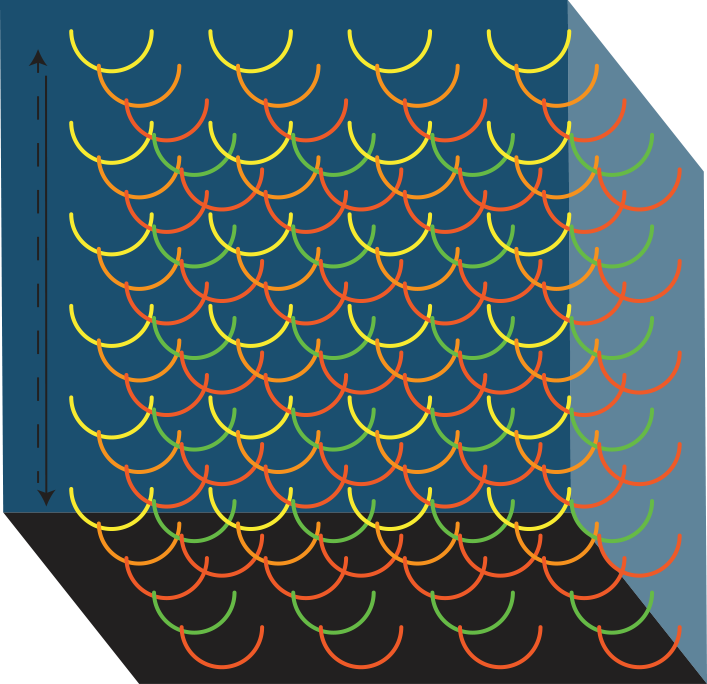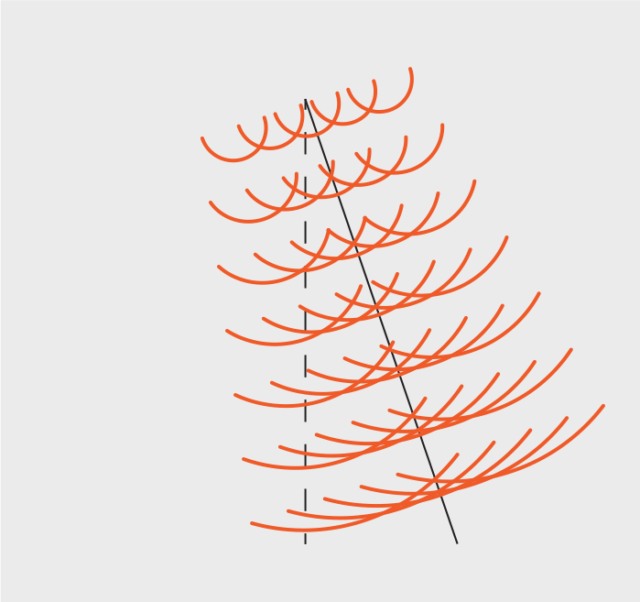 DOLPHITECH MATRIX TRANSDUCERS VS PHASED ARRAY
Phased array transducers contain a number of individual transducers that can be pulsed individually to steer and
Dolphitech Matrix transducers have transducer elements placed in a 2-dimensional array. Since the transducer directly covers the area of inspection, no encoder system is needed to calculate the position of each element. Reducing risk of positional errors due to faults or imprecision in the encoder system.focus the sound beam in a specific direction. Linear arrays are typically used in combination with an encoder system matching the signal with positional information to build a 2-dimensional image. Price will increase with the added number of elements and element gets smaller in size.
Substantial improvements in resolution are to be expected from a Dolphicam Ultrasound camera system compared to an Olympus MX phased array system.
---
MORE DATA THAN WE CAN USE
The TRM has 128 horizontal and 128 vertical transducer electrodes. This makes a transducer element where one horizontal line crosses a vertical line. I total 16.384 transducer elements send and receive sound to create the data with a frame rate from 10 to 100 frames per second.
In short, our scans deliver more data than we can use for now. For you, this means that the product you buy today only will get better tomorrow.
---

ULTRASOUND THAT LOOKS AND SOUNDS BETTER
Spend less time calibrating and more time fixing. Turn on the device and start scanning (1 min from start to ready to scan).
Large amounts of Data is being processed to a user-friendly dashboard. The «Traffic lights» pallet or real-time dataset streaming visualizes the scan in a way that impresses experts, and lets non-experts understand what they see.
---
SMALL, FLEXIBLE, AND EASY ACCESS
The TRM is made small and ergonomic, it fits nicely in your hand. Its size and weight makes it easy to hold, and access places that are really difficult to scan.
---
GET THE BIGGER PICTURE WITH STITCHING
Depending on your needs for accuracy and speed, we can offer different ways for scanning large areas and combining into one image. Dolphicam comes with multiple different stitching solutions, from manual grid tool to fully automated systems.
---
FTD – FLEXIBLE TRANSDUCER DEVELOPMENT
Our transducer technology is very flexible, allowing for customizable design for customers with specific needs.
---
SPECIFICATIONS
Width: 40 mm(1.6 inch)
Length: 40 mm(1.6 inch)
Height: 84mm(3.4 inch)
Weight: 280g/ 10oz
Transducer Electrodes 128 x 128
Transducer elements 16.384
Transducer frequencies: 2.5 MHz, 3.5 MHz, 7.0 MHz, 9.0 MHz, 11.50 MHz
Couplings: Customized coupling
Frames pr second: 20 to 100
FREQUENTLY ASKED QUESTIONS ABOUT THE DOLPHICAM2 PLATFORM

How thick can a material be for the dolphicam2?

Is there a limit to the size of the defect that the dolphicam2 can detect?

How is the dolphicam2 platform calibrated (service check)?

Can I measure porosity in composites?

Can I customise the screen layout?

How does the dolphicam2 TRM actually work?

Do you make different size and shapes of TRM?

How can I capture an area larger than the TRM aperture?

Can I use the dolphicam2 platform for immersion inspection?

What is the minimum diameter piping that can be inspected?

Is there any kind of beam steering in the dolphicam2 platform?

There are lots of different materials out there. Which ones can the dolphicam2 actually inspect?

What is the starting price for the dolphicam2 platform?

Can I loan a dolphicam2 platform from you?

Can the dolphicam2 platform TRM be used to inspect curved surfaces?

Are the delay lines interchangeable?
The dolphicam2 can be used on material up to 60mm however this is dictated by the ability of the material to transmit ultrasound. The target material's physical and chemical properties, as well as the ultrasonic frequency chosen, will all influence the dolphicam2's penetration depth and its corresponding maximum inspection thickness.
We have achieved sub-millimetre detection in a range of materials. The material thickness and the ultrasonic frequency chosen will influence this resolution. The short wavelengths generated by higher frequencies provide superior resolution. This is how bats can use ultrasound to echolocate and catch insects, whereas we can't do the same with our lower pitch voices!
Annual calibration is achieved remotely with our simple three step process. First, the user generates a calibration file on their system using the automatic annual calibration tool. Second, the user sends this calibration file to Ten adres pocztowy jest chroniony przed spamowaniem. Aby go zobaczyć, konieczne jest włączenie w przeglądarce obsługi JavaScript.. After this file is checked by our engineering team, we will issue an annual calibration certificate. This means that your dolphicam2 stays online, without ever needing to leave your facility. Find out more about the dolphicam2 here.
Yes, this can be achieved in two different ways. If individual voids are large enough, such as for needle voids, they can be resolved and measured directly using our geometrical measurement tools. In cases where micro pores may be too small to resolve explicitly, they can be detected via a reduction in the back wall signal amplitude. This effect can be quantified over a given area using our statistical measurement tools.
The dolphicam2 software offers a range of different display configurations, providing various combinations of A- B- and C-scans, as well as our 3D visualisation window. These layouts have been tailored to best suit the data being generated. Users can also manipulate the certain displays such as the gates, color palettes and measurement tools on the screen.
The dolphicam2 transducer module (TRM) works using a crossing electrode principle. Across the face of the transducer, 128 transmitter electrodes cross with 128 receiver electrodes. Between the two electrode layers, a piezoelectric material is placed which converts electrical energy to mechanical (sound) energy. To collect a pulse-echo-signal from a transducer element, a 70V pulse is excited on the transmitting electrode creating an ultrasonic pulse along the entire electrode. The ultrasonic pulse goes into the material and the reflected signal is sampled on one receiver electrode. In other words, each crossing point between the electrodes becomes an ultrasonic element, providing an aperture of 16,384 (128x128) elements.
At the moment we do not, they are all 40mm x 40mm. However, we take full advantage of the 128×128 matrix array in our current range of probes to provide a superior level of detail in real-time and in three dimensions.
We have a range of options available for larger area C-scan mapping. These include manual stitching, our GridTool and RapidMapper accessories, and using one- or two-axis encoders.
The dolphicam2 Blackbox and TRM are IP66 rated, which means they can withstand powerful dust and water jets, however should not be fully submerged underwater. It's safe to immerse the front face of the TRM in few millimetres of water for a water-coupled inspection.
The dolphicam2 platform provides straight beam inspection with unparalleled resolution.
The dolphicam2 can be used for to inspect a wide range of glass and carbon fibre reinforced composites as used in automotive, aerospace, defence, and energy markets. It can be also used to inspect metals in these sectors, as well as for adhesive bonding of similar and dissimilar materials. Finally, plastics, multi materials and some ceramics can also be inspected. View our capability studies here.
We have multiple options depending on your inspection requirements, please contact Ten adres pocztowy jest chroniony przed spamowaniem. Aby go zobaczyć, konieczne jest włączenie w przeglądarce obsługi JavaScript.for further information.
During the Covid pandemic, we are offering a limited number of dolphicam2 units for loan to reduce face to face demos. Please contact Ten adres pocztowy jest chroniony przed spamowaniem. Aby go zobaczyć, konieczne jest włączenie w przeglądarce obsługi JavaScript. for further information.
The TRMs are highly ergonomic and easy to manipulate. With our softer delay line Aqualene and Aqualink models, this can conform to some curvatures. For fixed curvatures such as pipes, we offer a range of curved pipe shoes which match the outer diameter of the pipe
Interchangeable delay lines are available on some TRM models.