DolphiTech
Ultrasound Imaging NDT for Non-experts
DOLPHITECH provides a range of advanced scientific instruments, training and services for Non Destructive Testing within the aerospace, automotive, marine and energy sectors. Worldwide industry leaders rely on us to ensure that throughout the design, manufacturing and in-service process the quality of their products comply with the customers requirements.
Our objective is to provide reliable and simple-to-use equipment to perfom cost and time efficient NDT inspections. The DolphiCam ultrasound technology is unique, powerful and user-friendly.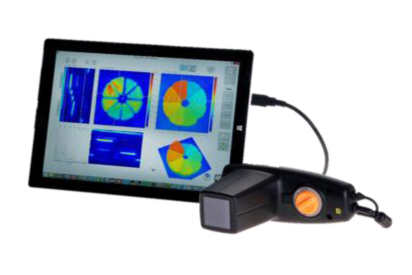 Unique 2D matrix ultrasound technology

High performance Ultrasound Camera

NDT solutions for Composites

NDT solutions for Non-experts

NDT solutions for Teams
NDT IN THE VALUE CHAIN
ENGINEERING AND DESIGN
To ensure a cost effective life cycle for the product, structures must be designed and built with inspectability in mind. When engineering departments have easy access to NDT technology, the need for costly and time consuming involvement of external NDT partners can be minimized.
MANUFACTURING
It is imperative to monitor and control manufacturing quality. All process steps from QA of inbound parts through processing, assembly and final inspection must be carefully monitored. The consequence of letting flawed parts into the value stream can be costly and in worst case catastrophic.
IN-SERVICE
Composite materials are strong and light, but still fragile. BVID (Barely Visible Impact Damages) can be sign of structural weaknesses that are hard to detect by the human eye. As the use of CFRP increase in high volume products, service and maintenance organizations need easy-touse tools to verify structural integrity.
Main sectors
Aerospace
• Impact induced delaminations
• Drilled Hole Inspection
• Core to laminate debonding
• Laminate to laminate debonding
Automotive
• Impact damages
• Debonding
Marine, Wind power…
Some customers
• Boeing 787 Dreamliner structural inspections
• Textron/Cessna and Spirit
• Airbus approval expected in June -17
• Lamborghini, Porsche, VW and Audi: Inspection tool for composite part inspections in in-service body shops
• Thatcham Research
Technology

• The transducer is our core technology
• Transducer works as a speaker and a microphone
• High voltage electric pulses are transformed into acoustic waves.
• Acoustic wave is reflected and transformed into small electric pulse
Transducer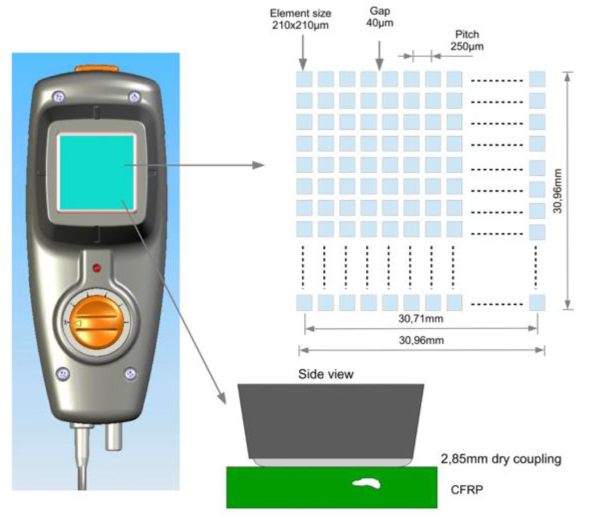 Ultrasound reflections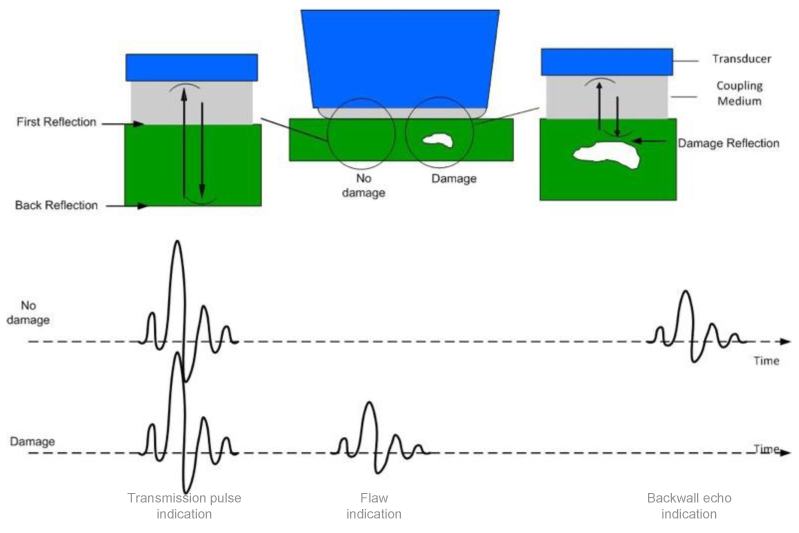 Application: Accidental Damage

Application: Small defects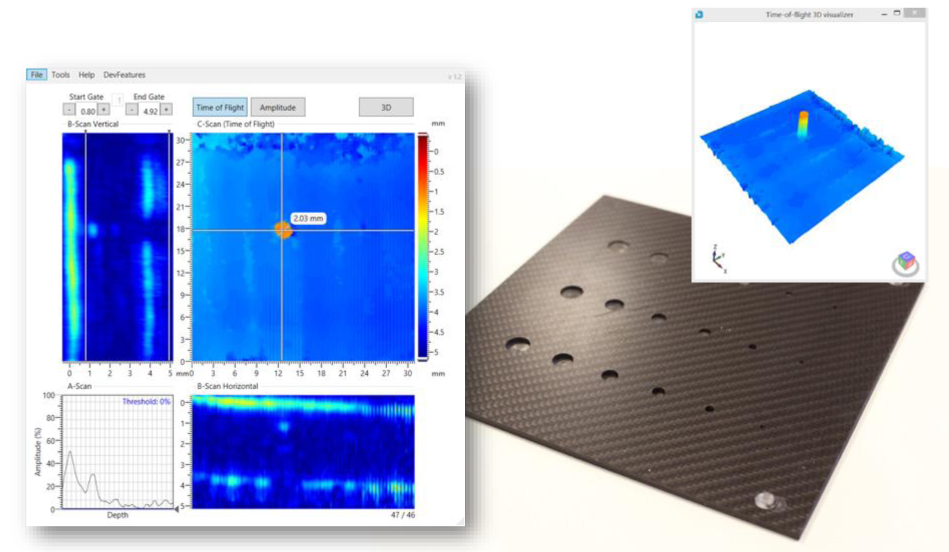 Application: Drilled Hole Inspection
Drilling holes in composite structures can induce hole wall delaminations, reducing the mechanical properties of the structure. Conventional ultrasound NDT techniques are time-consuming given that inspecting each hole takes time and that there can be numerous drilled holes in an aircraft. Using the DolphiCam Drilled Hole Tool, NDT Operators can focus on critical inspection depths. Defects as close as 2 plies from the surface is easily detected. The DolphiCam collects the complete image without need the move the camera. The dry coupling transducer allows inspection of the hole without using couplant.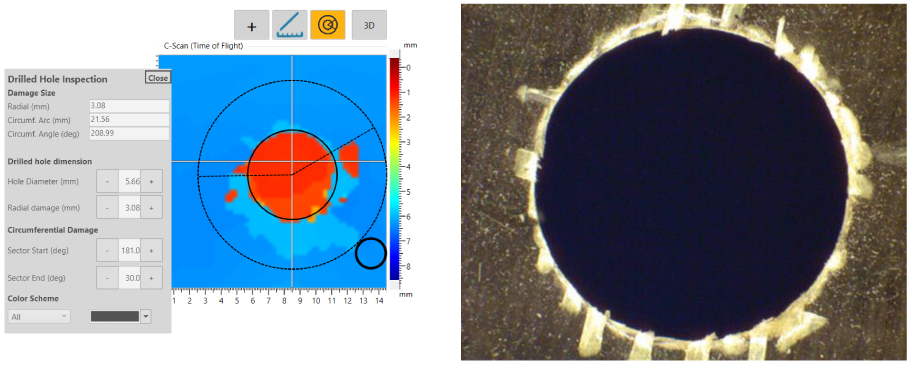 Application: Laminate/core disbonds

Application: In-Service inspection for non-experts
• Operator use prepre-programmed tool with traffic-light type indication
• User User-friendly software and easy to use camera!
• PDF report PDF created automatically
– Optional: Report evaluation by NDT Expert
Application: Medium area scanning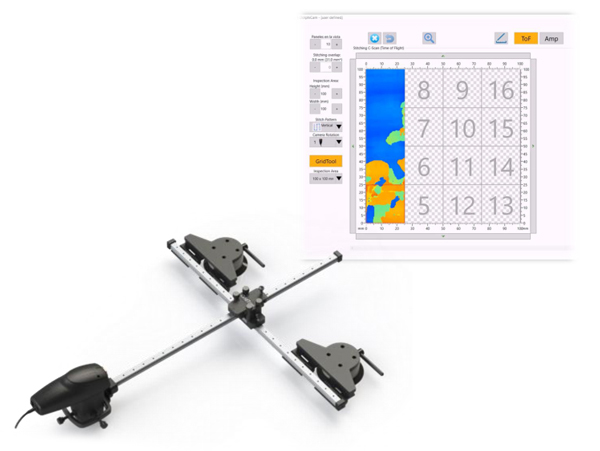 The DolphiCam GridToolTM is a mechanical positioning system that makes it easy to inspect larger areas with the DolphiCam. Its solid construction from high quality linear bearings ensure smooth scanning, precision and high inspection speeds. The GridToolTM is fixed to the surface by one or two large, powerful suction cups. Setup-time is usually less then 3 minutes! Due to the low weight, the system can be placed in any orientation, even inverted on painted or shiny surfaces. The suction cup can also be removed to allow for a bolted placement if needed. The attachment is hinged to allow access to non-planar surfaces.
Gridtool
• 500 x mm area
• Set -up < 3 minutes
• Adapt to curved surfaces
• Vertical, upside down…
• Affordable and quick!
Application: Large Application
LPS One
DolphiCam LPS One is a position-aware NDT system developed by DOLPHITECH. Using the DolphiCam 2D Matrix Array integrated with electro-optical measuring technology, the user can examine large composite structures by sliding the DolphiCam ultrasound camera freely over the surface.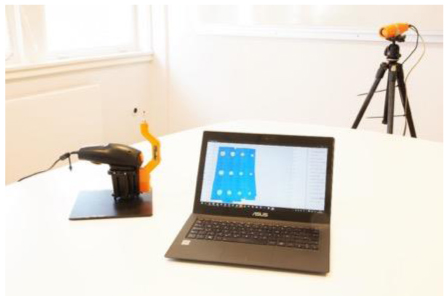 • Fast and precise scanning of large areas
• Absolute positioning based on industry leading CMM (coordinate measuring machine) technology
– ~ 5 x m volume
– 40 x 32 º FOV
– 2D system (3D version planned)
– High positional precision and repeatability
Application: NDT for Teams
DolphiCam TeamCenter is a system solution for making non-experts capable of performing NDT inspections. The inspections are performed following guided procedures provided by the NDT Expert.
PREPARING THE SYSTEM
The NDT Expert uses DolphiCam Expert to finds the best camera settings for the given structures taking the material, thickness and other factors into account. Next, the Expert uses TeamCenter/Expert to make a TeamCenter library contaning inspection procedures for each critical area and distribute the TeamCenter library to his team of NDT inspectors.
PERFORMING THE INSPECTION
Automatically opening TeamCenter/Inspector with the correct library, the inspector navigates to the correct inspection procedure, and enter details on the object to be inspected. The camera is automatically set up with the correct settings for the procedure. At the end of the inspection, a PDF report is automatically created.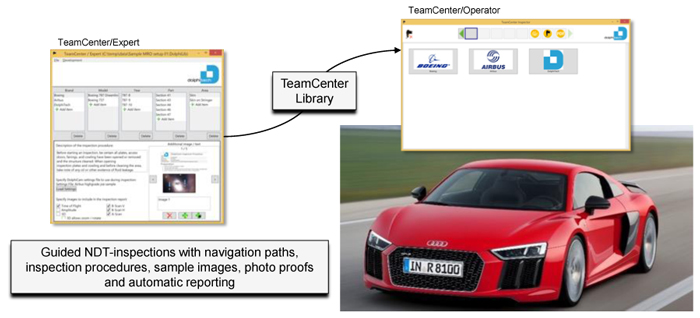 NDT for non-experts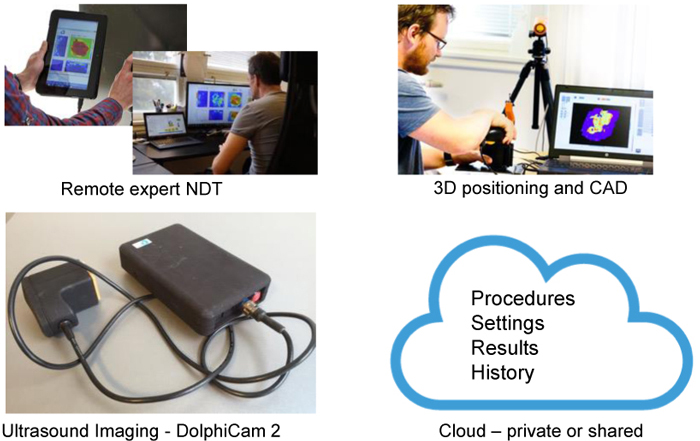 DolphiCam II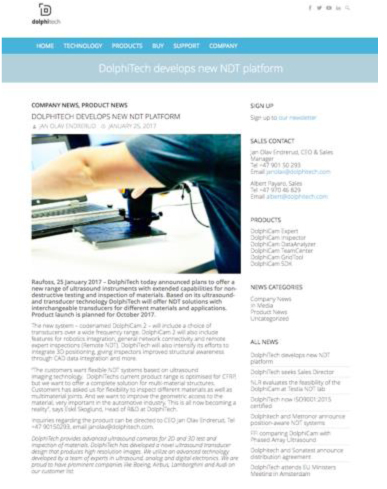 • New, flexible NDT platform
• Interchangeable transducers for different materials
• Improved connectivity
• Remote NDT
• 3D positioning
• Encoder integration